Date/Time
Date(s) - 14/09/2022
6:30 pm - 8:45 pm
Categories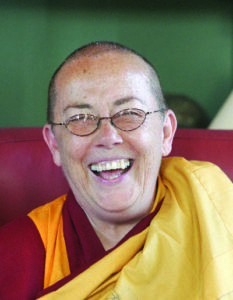 Ven. Robina Courtin
One of the most powerful methods to go beyond ego and attachments – for our own sake and so that we can effectively benefit others – is to happily greet our problems.
As Lama Zopa Rinpoche says "the thought of liking problems should arise naturally, like the thought of liking ice-cream!" Why, think this way?
We all experience one kind of problem or another.  They seem to come without warning, no matter how hard we try to avoid them.  Essentially a "problem" is getting what attachment doesn't want, so we assume its bad and do everything we can to push it away, and when we can't we suffer even more.
But given that our job is to develop our human potential and grow our compassion for others – after all, we are all in the same boat – it follows logically that the perfect opportunity to do this is when things go wrong.
When we are clear about this, welcoming our problems and transforming them into happiness is without doubt the quickest path to success.  It's the most difficult practice, the most radical, but the most rewarding.
We welcome Ven Robina for two evenings on the same theme.  We recommend coming to both but you can come to either is there is a space.
FEE: $30 for evening or $50 for both sessions –   Booking recommended
Bookings
Bookings are closed for this event.