Hello from the Team in the Book Shop
Our Book Shop



At this time, we're open on Tuesday and Friday 10am-7pm and Saturday 10am-5pm. We will be keeping our door closed so when you come to us please give a knock on the front door and somebody will come to the door and let you in. A lot of people are giving us orders, often to be sent out, but if you wish you are welcome to call and tell us the books or CDs/DVDs you want and we can have them ready for you at the door.
Equally, we can let you in and you can have a look around and pick out what you want.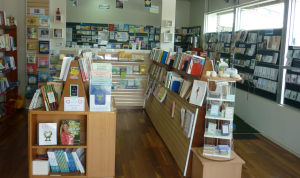 Remember at this time up to the end of April 20% off all stocks of Books, DVDs/CDs and other sundry little items to uplift, make you laugh and bring encouragement.
As you will realise, we are no longer presenting classes at this time but each week we are sending an email letter to all those who have requested our Newsletter online. All are welcome to join us.
Each week we are updating our Book Page on our website.
Many people are devouring books in ways they didn't have the opportunity to do previously and we hope what we include on this page will give you some great reading as well as many other advantages and encouragement.
Jeffrey Hodges
Many years ago, a young man kept coming into the Centre with such a thirst for all we were offering.
It seemed that whenever he came in, he brought arms full of delicious vegetables and fruit from his garden – what he brought looked magnificent. He clearly had a huge talent when it came to gardening.
I was ecstatic when he told me he was writing a book. A few weeks later we saw for the first time Natural Gardening in Australia.
This is now Jeffrey's 5th edition and has become the handbook, the companion and the bible of many thousands of gardeners in Australia. It's a beautifully easy and straightforward book to read. The cost is $25. If your neighbour or family wants one at this time you can have two for $40.
Kate Knapp
Kate Knapp is the niece of one of our very long-term helpers and presenter of Deep Relaxation. We remember hearing of her and seeing this young girl's remarkable talents in creating little enchanting figures. Kate is now sought-after worldwide – these are some of her latest books. We think you'll love them.
A Garden of Thoughts – Inspirations for a Bountiful and Beautiful Life – Here is a delightful little book full of the most beautiful sketches, wonderful thoughts, and uplifting lightness and simplicity.
Kate has recently produced more new books including – FOLLOW Your Own STAR Reflections on Charting Your Own course – Much of what is written above applies also to this little book
The third one from Kate Knapp is for children, Learn With Ruby Red Shoes. This is such an appealing little book on learning to count. There are 3 books in this series.
Mindfulness
Mindfulness for Mums and Dads
Here is a book offering proven strategies for calming down and connecting. Of course, at any time these ideas can be invaluable but right now we are going through so many changes at the same time, such as living on top of each other, not doing our normal work and having the usual stimulation of many other people, we can become bad tempered, cut off, snap at one another and have trouble communicating. Here is a book that could be excellent for reconnecting with yourself and others.
When you're not OKAY – a toolkit for tough times
Jill Stark has put together this beautiful, very helpful book. She says simply, "This is a self-care manual for the days you feel very alone" – just what many of us need right now.
Have you seen in our Shop the 9-CD set of Feldenkrais Movements–3 for Lower Body, 3 for Upper Body and 3 for Aligning Your Body by Eileen Bach-y-Rita. These can be wonderful to have on hand and play as needed when you find stiffness in various parts of your body or your body not moving as you would hope – You will find all Feldenkrais movements are very, very gentle.
The Book of Hope – Antidote to Anxiety. Lots of you over the past 20 or so years have attended courses here by Vicki Bennett.
Vicki has just written her 30th book entitled The Book of Hope. This book is a book for this time. Our inbuilt mechanism of fight and flight has turned into overwhelming anxiety that we soothe, avoid or numb. This latest book introduces a new concept and mindset for dealing with anxiety – Hope.
Vicki says we seek a hopeful world but like faith it needs to be enriched, shared and cultivated. Hope has countless shapes – an innocent child, an open door, a new book on the bedside, a wallet returned to its owner, a new beginning or a fresh spring day. The Book of Hope will help you to cultivate and foster this hope and re-frame your relationship with anxiety as a gift that can help you connect with the meaning and purpose of your life.
Be Kind to Yourself
At this time of unexpected changes, insecurity about the future, isolation for many people and families being together in ways we have never experienced previously we may of course experience many moods, tensions, irritations and much more. There can be grief in all its different forms and reactions we would never have anticipated.
This is where the right book can be golden, the right meditation can really calm you down or another item can ground you and bring you back to being able to smile and laugh again. Many people say that books mean so much to them – they love the feel of a good book.
Wellness
Many people in the past two decades particularly, have been exploring wellness so they can build their health instead of rushing off to the doctor so often. They have wanted to take responsibility for their bodies rather than drink, eat and live without regard for the possible outcome.
Here is a book by Kerry Harling – Ayurvedic Practitioner, founder of The Holistic Highway. It's called the 25-day Ayurvedic Cleanse and contains 60 plus healing recipes. Ayurveda has a 5,000-year history of assisting with wellness and showing how people can use food as medicine and get to the root causes of ill health so that individually we can bring our minds, bodies and spirits into balance.
Eat… Think… Heal… This is a little book but a Must to read in these 21st century years. It is written by our regular presenter Margaret Bridgeford. Margaret has an amazing story as a fifth-generation farmer and the family's health deterioration following the changes in farming which they were very much part of. She talks about the connection between the health in the soil and the health in our human bodies and, all importantly, she will take us through the changes we can implement to make our health so much better.
Second-Hand Books and CDs
Ask about these.