Books, Books, CDs, DVDs and More!

All focused on a better, more empowered and meaningful life.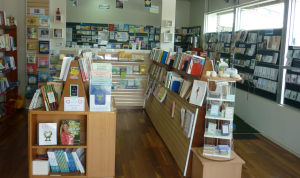 We often see volunteers reading a book on sale here, and then hear them say something like, "Wow that's full of wonderful information – how inspiring – or I'm really delighted I looked at that one – it's opened my mind to all sorts of possibilities – or sometimes they'll say, "I feel really motivated by what I have just read".
They are the sorts of comments that Elena, who organises our Shop, purchases the books as well as all the other lovely items in our Shop loves to hear. Some books really hit the mark and can touch people deeply.
For each of these Programmes we ask several of our volunteers to write something about a book or two that has really appealed to them. You will see the reviews and comments below.
Here are reviews of books by some of our volunteers.
Oneness With All Life– Eckhart Tolle
Deepak Chopra has called this book one of the best to come along in years. He says that every sentence rings with truth and power – "The power to bring you into the gap, the space between our thoughts, where we find, as Eckhart so beautifully puts it, deep serenity, stillness and a sacred Presence".
This is a book to read with post-it notes or a pen to make notes when something resonates with the reader. Eckhart Tolle has again provided a valuable tool to navigate through our lives.
The Subtle Art of Not Giving a F*ck  – Mark Manson
This New York Times Bestseller provides a modern, no nonsense take on self-help. Written for a millennial audience this book cuts through the positivity myth and delves into living a practical and balanced life. Mark is a popular blogger whose casual writing style lends itself to resembling a personal conversation with the reader through easily digestible chapters and anecdotes. The essence of the book is to help redirect focus to what really matters in our lives and to stop worrying about the things we cannot change.
Dodging Energy Vampires – An empath's guide to Evading Relationships that Drain You and Restoring Your Health and Power – Christiane Northrup, M.D.
Highly sensitive people are empaths and see life through the eyes of compassion and caring. They were born that way. They carry a tremendous amount of inner light but they are also the favoured prey of "vampires" who feed off the empath's energy and disrupt their lives on every level – physical, emotional and financial. In these pages Dr Northrup opens up a toolbox full of techniques that you can use to leave these harmful relationships behind. In the end you may find yourself healthier, happier, wealthier and more vibrant than you could ever believed possible.
The Real Health Crisis – Dr John and Jeanie Ryan
This book has been flying off our shelves and I can see why. A great modern resource for managing health risks. Discover different ideas and approaches that are of great value. This holistic guide will energise your living and longevity. A wonderful book for your health and wellbeing.
CDs and DVDs
There are many people who still love their CDs and DVDs. There's that friend, who, with the flick of a switch, can give you wonderful guidance and direction about movements: Our Feldenkrais CDs have sold in their hundreds – low-priced, high value. Some of you will remember Adrian Rice who, in his early 60s was told he would very soon be in a wheel chair – every day he put on his Feldenkrais CDs and kept wonderfully active as a leading gardener, a remarkable contributor, a runner and a walker. He died not long ago at 97.
Many of you love Michael Dunn's beautiful Healing Meditations on Tuesdays at 12.30pm. Michael has produced a range of CDs available here at the Relaxation Centre.
Yes, there are so many more – one purchase can be a friend for life. Many people tell us that the CDs of Bert Weir, which they bought back in the 1990s or earlier have been played and played and often as inspiration on their daily drive to work. After so many years we hear that the tapes have finally worn out and we get a pleading call, "Can I replace them?" and usually we say, "Yes, of course you can". So, those above and many, many others are available from outstanding speakers, such as Louise Hay, Ian Gawler, Eckhart Tolle, and so it goes on.
Discounts – Discounts
Yes, 20% discount off all new items in our Shop, but not off our very low price, often wonderful range of second-hand books. Tuesday 25 January to Wednesday 16 February and  Saturday 19 March to Good Friday.