Books, Books, CDs, DVDs and More!

All focused on a better, more empowered and meaningful life.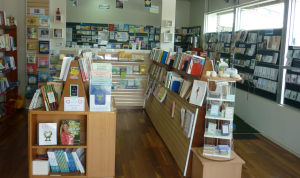 Our Shop is full of invaluable Books, CDs and DVDs to assist you with life's challenges. Anxiety, Stress, Depression, Food Issues, Illnesses, Self-Esteem, Relationships, Encouraging Kids, etc. etc. plus some lovely, special cards and lots more. – Come and browse.
Here are recommendations by 5 of our Shop Volunteers
The Goddess Revolution by Mel Wells. In the age of diet culture, body exclusivity and impossible standards, Mel lights a different path. She inspires women to reclaim their right to take up space and love the body they're in, starting with the healing, our broken relationship with food. Through a series of uplifting quotes, relatable anecdotes and mindset shifting practises Mel invites you to come home to yourself.
Natural Gardening by Jeffrey Hodges is a practical guide to growing vegetables, fruit, flowers and trees organically in Australian conditions. Learn how to garden in harmony with Nature to create a 'self-sustaining garden ecosystem' that is low maintenance but very productive.
Radical Remission by Kelly A Turner Ph.D. Kelly was counselling cancer patients at a large cancer research hospital in San Francisco when she came across a case, she called a radical remission. She was shocked by the number of cases she discovered in print all quietly published in medical journals.
This book shares her research into Radical remission of cancer and the nine key factors that these cancer survivors had in common. They were radically changing their diet, taking control of their health, following their intuition, using herbs and supplements, releasing suppressed emotions, embracing social support, deepening their spiritual connection and having strong reasons for living.  This is a wonderfully inspiring book.
Ayurveda – The Science of Healing by Dr Vasant Lad– For the first time this book is available which clearly explains the principles and practical applications of Ayurveda, the oldest healing system in the world. This practical guide thoroughly explains the following: History and Philosophy • Basic Principles • Diagnostic Techniques • Treatment • Diet • Medicinal Usage of Kitchen Herbs & Spices • First Aid • Food Antidotes • and includes more than 50 concise charts, diagrams and tables.
A Return to Love by Marianne Williamson – Reflections on the Principles of A Course in Miracles. Marianne lectures internationally in the fields of spiritual reality and metaphysics. A Return to Love offers readers a chance to experience the uplifting and empowering teachings that characterises her personal appearances. This is a classic book in which she reveals with elegant simplicity that love is not a mere sentiment or emotion but the ultimate truth at the heart of creation.
Three very different books on healing
The words Whole, Wholeness, Holiness and Healing all apparently come from the same derivation. We have three great new books from totally different angles on healing to allow minds to embrace new ideas and find answers from different directions. Peter Sherwood has written Healing Secrets – Learn to heal yourself and others with your mind and your hands. Then The Real Health Crisis – Managing health risks in a modern world (A holistic guide to energised living and longevity) by Dr John Ryan, a medical practitioner for over 45 years and Jeanie Ryan, a Dietician and a Naturopath. – AND the third book Awaken Qi Within by Gregory Williams who is a teacher and practitioner of channel therapy acupuncture, combining "yin-yang", "five elements" and triple heater" into one system, and a leading practitioner of Qi Arts for over 25 years.
 Four books on The Enneagram
We have courses of varying lengths on The Enneagram and to support these courses here are 4 books we have in stock –  The Sacred Enneagram Made Easy •The Enneagram of Parenting • Sex and The Enneagram • The 12-Type Enneagram.
Discounts – Discounts
All new Books, CDs, DVDs and other items in our Shop (except from the Bargain Box) 20% off from Thursday 1 April to Sunday 18 April
and
Saturday 22 May to Sunday 20 June.