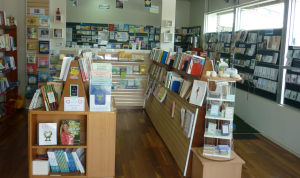 What a fantastic little Bookshop we have here at the Relaxation Centre! It's like a kind of Aladdin's Cave, full of wonderful exotic and undiscovered treasures. This exceptional little Bookshop is the work of many passionate people from various walks of life – that is what makes it so unique.
We have added a table and chairs to the middle of the shop so you can come in, sit down and enjoy browsing through some of the wonderful books we have here waiting for you.
Many of you remark on the wonderful range of books we have and how often we have books that you can't get elsewhere. Always remember that we are very happy to send books out to you if you can't come in, and if you're really keen to get hold of a book and you've been having trouble, give us a call, send us an email, and we'll certainly do the best we can to get it for you.
Also, a great bonus is, we have many people who want to support the Relaxation Centre and so bring in books that they have had and enjoyed for many years, and give them to us to find new homes. It's astonishing how many books like this pass through our shop. People often go out with great grins on their faces saying they've found books they've looked for, for a long time, and we know they can be little gold nuggets that they've found in that Bargain Bin.
Also, always know that we have many CDs and DVDs unique to the Relaxation Centre – recordings of outstanding speakers, lovely CDs to relax as well as talks to inspire and assist.
Yes, we're here as we have been for 44 years and we're not going away any time soon as there is so much that's needed in our world that we know resides in people and needing to be brought out so that they can each find greater calm, greater confidence and an increased sense of their own personal value. Remember we're in this life together and we need to make it work.
Enjoy our Shop. We hope you find here the little gems that are going to assist you on your journey of daily living and personal discovery.  And we have 20% discount off everything from Saturday 3 August to Saturday 17 August and Monday 23 September to Sunday 6 October.