Hello from the Team in the Book Shop
Our Book Shop



At this time, we're open on Tuesday and Friday 10am-7pm and Saturday 10am-5pm. We will be keeping our door closed so when you come to us please give a knock on the front door and somebody will come to the door and let you in. A lot of people are giving us orders, often to be sent out, but if you wish you are welcome to call and tell us the books or CDs/DVDs you want and we can have them ready for you at the door.
Equally, we can let you in and you can have a look around and pick out what you want.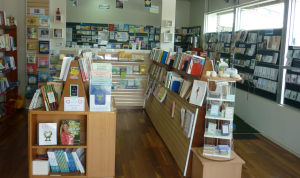 Remember at this time up to the end of April 20% off all stocks of Books, DVDs/CDs and other sundry little items to uplift, make you laugh and bring encouragement.
As you will realise, we are no longer presenting classes at this time but each week we are sending an email letter to all those who have requested our Newsletter online. All are welcome to join us.
Many people are devouring books in ways they didn't have the opportunity to do previously and we hope what we include on this page will give you some great reading as well as many other advantages and encouragement.
Christopher Titmuss

Each year we receive a very welcome visit from Christopher Titmuss from the UK. He became a Buddhist monk in India at about 20 years of age but after a few years he returned to the UK, married and had a family. His wisdom has been sought out by thousands of people worldwide, often in times of internal hostility or wars with other groups, disruptions or people simply looking for better ways. He speaks in many countries on numerous subjects about finding inner peace. Now with Ulla Koenig, Christopher is offering online a free course in short videos – 38 daily themes for Mindfulness in times of this Coronavirus.
Karla Cameron

Eating Out of Control – 7 steps to understand why you do it so you can stop by Karla Cameron
Often, we eat more and more when we're struggling with change, uncertainty and situations which are different or perhaps really new. Karla says it's an easy-to-read support manual that you can pick up and refer to whenever you need it. Often with eating issues we can have shame. She also covers why we subconsciously sabotage our own success. This book can assist us to be free again to enjoy our eating, enjoy our bodies and our lives without guilt.
Change Your Genes – Change Your Life- Creating optimal health with the new science of Epigenetics
Dr Kenneth R Pelletier.  is a clinical professor of medicine in the USA and authored the international bestselling book Mind as Healer Mind as Slayer.
For years we've thought that if we had certain genes, we could never change. Since Dr Bruce Lipton's research, and others, we now know differently and this book will tell you much more about how.
Healing the Broken Brain

Authored by Dr Mike Dow and David Dow. Here is an insightful comprehensive how-to-guide to surviving strokes. Leading experts answer hundreds of questions about stroke recovery. This book includes some great insights on what is a stroke, who is at risk for one, what is the best diet for a stroke survivor, how long would it take to recover and how a stroke survivor can maximum stroke recovery and, very importantly what to do to prevent another stroke. One of the two authors, David Dow is a stroke survivor and a co-founder of Aphasia Recovery Connections. His life story of healing and recovery has received much publicity.
Articles through the Decades
Here is a compilation of dozens of Lionel Fifield's articles and poems written over 45 years since the commencement of the Relaxation Centre.
We have been delighted with the feedback from this little booklet with people telling us that they keep reading and re-reading the articles and have the book by their bed to often read one, either in the evening or first thing in the morning. This booklet is now $20.
Spontaneous Evolution

(a DVD) Dr Bruce H. Lipton has been known to millions of people worldwide as a pioneer in the new biology and is an internationally recognised leader in bridging science and spirit. He became famous for the book Biology of Belief. He was a vital part of forming and creating stem-cell research at Stamford University. This is a very inspiring DVD.
One Man, One Cow, One Planet



Here is a DVD that many of us absolutely love. Peter Proctor who is New Zealand's father of biodynamic agriculture went to India where thousands upon thousands of farmers were committing suicide after they were forced to use chemicals on their land, which they hadn't done previously for hundreds of years. The earth changed, families were breaking up and the challenge was huge. Peter Proctor showed one man how he could use biodynamics and by the end of a few months his land looked totally different from all those around him. One by one others came to hear more and it has now taken off right throughout India with sensational results. Here is such a touching, beautiful DVD that has received numerous awards from many organisations. This DVD will open the eyes of many people in agriculture and just ordinary gardeners. We believe it is a must to see for the future of life on this planet.
Sleep, Sleep, Glorious Sleep
You may have heard recently on the radio of many people saying that they cannot sleep at this time, their minds can't rest and they get up stressed and exhausted in the morning. Lionel Fifield has been presenting courses on Getting to Sleep and Staying Asleep for many, many years and fortunately a few weeks ago he recorded his latest version which is now on CD. These contain so many gems, ideas and insights. We put these out at only $25 and currently there is 20% off– so for $20 you will receive lots of encouragement and valuable ideas.
Bargain Bin

We now have 2 tables just inside our front door full of pre-loved gooks and CDs (some really new in appearance). Mostly at about $2 or $3.