Books, Books, CDs, DVDs and More!

All focused on a better, more empowered and meaningful life.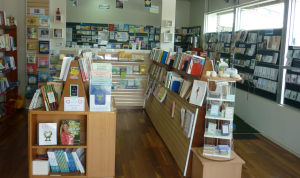 When people walk into our Shop and say, "Wow, just what I have been looking for" or "I really love coming here and browsing for an hour or so and having a cuppa" – it's then we know that books are not going out of our lives. It seems that numbers might even be increasing as people turn to them for what they find means so much.
We watch people in delight as they sift through our second-hand books and then tell us they have found a treasure that they have been looking for everywhere – it's so pleasing.
Yes, when we read new books it is obvious that more individuals than ever are pouring out their hearts as they write deeply touching and meaningful books – the learning of a lifetime that has often included many incredibly difficult years, experience of health issues, relationship challenges, or work life that has really stretched them. However, despite these experiences once originally seeming horrific, they've actually grown because of them and learned so much. They then want to pass this on to others. Suddenly there it is, all summarised in their book of sharing, encouragement and insights that can really touch us. These little books can often give readers the beautiful feeling that somebody else really understands what we are going through – or been through and out the other side – we're not alone. What a lovely little companion that book becomes, speaking to us, reminding us as we step through our challenges one-by-one – it's like a friend walking with us by our side and at times holding our hand.

Below you will see reviews of books by some of our volunteers.
Blueprint for Holistic Healing – Your practical guide to Body-Mind-Spirit Health – by C. Norman Shealy, MD, PhD.
Dr Shealy is a renowned neurosurgeon who  was introduced to the work of Edgar Cayce in the early 1970s, considered to be the Father of Holistic Medicine. From this introduction he has created a blueprint for holistic healing, providing questionnaires for the reader to assess their health throughout the book. Chapters include Holism, stress and distress, nutrition, exercise and body therapies. This provides the reader with a wonderful example of progressive relaxation, which, he states, that two 20-minute sesions per day reduces insulin requirement and adrenaline production by 50% for the entire 24 hours, thereby not only reducing stress but reducing stress related illnesses. Dr Shealy had decades of clinical practice behind this book. This really opens our minds to holistic healing from an outstanding doctor with a remarkable track record including an exciting collabration with Carolyn Myss.
Dark Emu – Black Seeds by Bruce Pascoe
In this book Bruce Pascoe challenges what we have been taught about Aboriginal Culture at the time of the colonization. He has researched early historical journals written by early Europeans and found evidence of farming and irrigation.
This book revealed a different perspective on the level of planning and complexity that has existed in indigenous communities since before European settlement. Many of us who have read this book have said it was one of the greatest eye-openers that they had ever encountered – Everybody should read it.
 Heart Thoughts by Louise Hay
Here is a truly beautiful gift edition. It is a book that can be opened at any page to reveal colourful wisdom to ponder, new possibilities and simple insights that can make such a difference whatever the day and particularly when we are struggling and looking for answers. It's so simple to read and takes us straight to our hearts. So, absorb it and live it and, all importantly, look forward to it day after day. It's always with you.
Sensitive is the New Strong by Anita Moorjani
An inspirational guide for sensitive people looking to harness their gifts of intuition and empathy in today's harsh world. Here is a new book by bestselling author of "Dying to be Me".
In a time when sensitivity, kindness and compassion are sorely undervalued, Anita Moorjani helps those very empathetic and sensitive people to navigate obstacles, identify what makes them unique and claim their true powers as leaders.
For Your Interest
Some of you will have heard of Maya Angelou. She wrote "When I look back, I am so impressed again with the life-giving power of literature. If I were a young person today, trying to gain a sense of myself in the world, I would do that again by reading just as I did when I was young." -Yes, here at the Relaxation Centre we have a wonderfully diverse range of topics to inspire your reading journey.
Also, have you browsed our Library resources in the Book Shop recently. The dedicated volunteers are in the process of arranging our books by subject and cataloguing our books in our computer. Please feel free to ask for help. We are always adding to our resources and happy to help whenever possible.
Discounts – Discounts
All new Books, CDs, DVDs and other items in our Shop (except from the Bargain Box) 20% off from Sunday 6 June to Sunday 20 June and from Sunday 1 August to Saturday 21 August