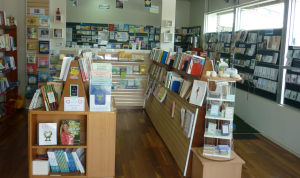 What a fant
astic little Bookshop we have here at the Relaxation Centre! It's like a kind of Aladdin's Cave, full of wonderful exotic and undiscovered treasures. This exceptional little Bookshop is the work of many passionate people from various walks of life – that is what makes it so unique.
In the past few weeks we have rearranged the Shop to give you more space when you visit us. You will see we have added a table and chairs to the middle of the shop so you can come in, sit down and enjoy browsing through some of the wonderful books we have here waiting for you.
Each month we bring in many new books but always try to retain and have in stock some of those great old favourites that have been and still are so motivational and encouraging.
We never fail to feel delighted when we talk to people who are in our Book Shop for the first time. People's personal stories always fascinate me and so often people say, "I wasn't at all interested in books like you have here until a few months ago. Now when I see a collection like this I feel so excited – they all have meaning for me."
It's as if we go through a reorganisation within ourselves – we've had a refit and somebody's got into our minds and reprogrammed them.
Our world, our society is changing person by person. Often it can be accelerated or brought on by a physical crisis, a deep mental confusion leading to the emergence of a new person different to who we've been or known for all our previous years. Sometimes our families think we've gone a bit strange or think we've got into some funny things.
The fact is 50 years ago hardly any such books as we have here had been thought of, written or printed. Particularly from the 1970s things began to change and it seemed a new age was born.
The revelation was around of the possibilities within us and expanding our realisation of what we could do for ourselves or move within ourselves. Pioneers in the West were exploring meditation, connecting with aspects of self, asking what love was, finding answers to stress and anxiety and looking at illnesses from a widened viewpoint.
Here at the Relaxation Centre, in the 1970s and 1980s particularly, we attracted tens of thousands of ecstatic people who could not get enough of our courses and the new speakers who were coming from many other countries, opening us up to exciting possibilities, Our inner power, Meditation, Self-Esteem, Healing, The Power of Our Minds, connecting more significantly with ourselves, and physical flexibility through Yoga, Feldenkrais, the Alexander Technique, Qi Gong and the like.
We could go on and on – but the world is changing one person at a time. First there is the hearing and reading of words but then the big job is integrating all this information so that it becomes part of us, what we instinctively know within ourselves, our spirit, our purpose and our individual journey.
It's a very meaningful time to be alive and to begin to embrace personal and individual responsibility for our lives.
Our society may, and almost certainly will go through much crises, during these changes but the old has to die for the new to ultimately emerge. All over the world many beautiful movements of individuals and groups are developing so that little by little, out of all this, humanity can truly become one family and we, as individuals, can reconnect with nature and the environment in all its forms. This is about the oneness of life.
Enjoy our Shop. We hope you find here the little gems that are going to assist you on your journey of daily living and personal discovery.
As we come towards Christmas we like to give the early shoppers and late shoppers both the chance to get meaningful presents for others (and themselves) at 20% reduction.
October 10 to 27, and – 8-24 December.
Don't forget Christmas Vouchers are a great gift as well and of course you can choose the amount. Some people do this with a particular course in mind or other items from our Shop.