Date/Time
Date(s) - 17/12/2022
10:00 am - 12:30 pm
Location
Relaxatin Centre of Queensland
Categories
Mandalas are symbols that capture our minds in their unique way.  Its patterns can affect our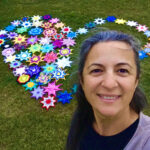 psyche in a positive manner, leading us to embrace oneness, peace, silence and self-power.
How would you like to weave your own mandala?
 Anca has encouraged hundreds of people and watched with joy as their produced a huge variety of unique mandalas – so individual!
As you immerse yourself in this you will find it a meditative experience linking you with your inner wisdom and deepen your connection with your heart and practicing mindfulness with all the benefits that this can bring.
This session can put you in touch with so many of your spiritual qualities.  Creating mandalas is a nourishing and relaxing experience using different yarns such as wool, cotton, synthetic yarns, wooden and bamboo sticks.
The sticks will all be provided by Anca. Bring whatever yarns you can.
Fee: $20 Please Book.
Bookings
Bookings are closed for this event.