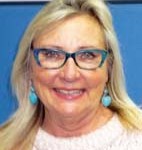 Marion has been a student of the Ancient Wisdom Teachings esoteric philosophy's for the past 30 years. Her main love and focus has been in Esoteric Psychology which includes The 7 Rays, and esoteric astrology. She says this is because they bring a deep understanding of people and life, the world around us, and bring personal insight and growth.
Marion has studied and completed an Esoteric Psychology 2 year course with the University of the 7 Rays in 1991, and continued her studies in Esoteric Astrology and the 7 Rays, including esoteric healing and meditation over the years in Australia and Scotland. She has facilitated workshops in USA, Findhorn in Scotland, The School for Esoteric Sciences Scotland, Maitreya Sangha Scotland, Cochabamba Bolivia,  Sydney and Brisbane Australia.
Marion says she considers this to be her life's' calling and so continues to work and teach as long as there are people who want to learn and enrich their lives with the teachings. Marion is an esoteric astrologer, teacher of 7 Rays of Life, teacher of meditation, ACIM student.