ilma Hynson i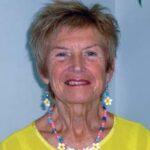 s a classically trained Homoeopath from England, who landed on our shores in 1998. She made her home in Sydney where she worked mainly with children on the Autism Spectrum.
Leaving Sydney in 2005 ilma found herself in a new niche in Yamba, where she became actively involved in the treatment of challenging children, from her Clinic at the Wellbeing Centre in Yamba. So many parents do not want to medicate their children and may not be acquainted with the
In 2019 ilma moved to Brisbane and would love to share her knowledge and passion and looks forward to welcoming you to her talk.