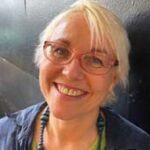 Edwina Shaw is an Australian writer and yoga teacher who specialises in workshops that combine yoga, writing and other creative practices to help people move through trauma. A Guide to Grief is the book she wrote after the death of her infant son, echoing the earlier losses of her young father and brother.
Edwina offers innovative, interactive creative writing workshops for children, teenagers and adults. Her unique combination of movement, meditation and creative writing creates an atmosphere where creativity blossoms and students thrive.
Edwina is a registered teacher with over twenty years teaching experience for a wide variety of purposes ranging from special schools, to juvenile justice centres, English courses for migrants and refugees, childcare centres, the Queensland Writers' Centre and universities. She once had her own language school in Cambodia.
Since 2005, she has been teaching creative writing at the University of Queensland and in the community. For almost two decades she's also been teaching yoga, most recently to the performance dance students at the QLD University of Technology.
It is this unique combination of the physical and the intellect that makes her writing workshops so much fun, incorporating simple yoga, meditation, drama and dance techniques to help bring writing alive.