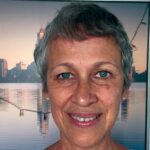 Desirée says, "I was introduced to the gift of meditation at the age of 15."
From age 21, I was fortunate to have lived in the Carmelite monastic community for 10 years – where I could develop a spiritual life steeped in the practice of meditation.
Wednesday nights are a highlight of my week where I have the privilege of sharing Deep Relaxation with others,  here at the Relaxation Centre. Meditation helps me negotiate life more calmly.