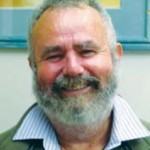 David Burke, is the leading writer/teacher and researcher of the Enneagram Personality System in Australia today. Internationally recognised for his work on the Origins of the Enneagram he has taught extensively in the US, Europe and Asia. David has published two gooks on the Enneagram, The Nine Personality Types and The Enneagram of Transformational Leadership.
David established the Brisbane Enneagram Project in 1994, which is the largest and longest running public Enneagram program in the world. He also founded the Australian Institute for Enneagram Studies, which runs training programs for trainers and teachers, Including the clinical assessment of Personality Type.
Daavid established Andelaine in the Gold Coast hinterland in 2004 as a Medical and Contemplative Retreat Centre which runs an Integrative Medical Practice focusing on immune support and a residential, contemplative program, combining The Enneagram and Mindfulness Meditation.
In 2012 David initiated a Wellbeing and Health Research Study looking at the connection between Enneagram Personality Type and health outcomes which represents the largest survey of its kind in the world.
Since 1994 David has also run a Management Consultancy firm which has worked with some of Australia's largest Legal, Local & State Government, Transport, University, Banking, Medical, Education and Non-Government organisations on communications, productivity, conflict-resolution and leadership.