"Learn from the body more than teach the body!"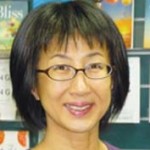 Asako Ogi learnt Oki-do Yoga with Saburo Ishii, Peter Masters and Megan White then Pranayama and Qi Gong with Isamu Mochizuki.
She fell in love with their concept and techniques which is quite physical and insightful. Since then Asako has been teaching yoga for over 10 years in Japan and Australia. She understood that yoga is a personal journey in the way you find your true self whatever the difficulties, problems and conditioning whilst growing up. Her class provides a very friendly atmosphere, laughter and beautiful relaxation. Asako says she wants people to know their bodies and come to recognise all the possibilities through mind/body connection and spiritual clarity.
Asako presents Yoga for Everyone every Tuesday 5.45-6.55pm.
Asako also has a keen interest in sharing how healthy Japanese food is and says it is anti-aging, therapetic and healthy. She has a very keen interest in promoting healthy and nutritious foods. S