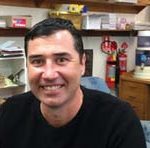 Alexander Robey is a highly experienced, respected and sought after presenter, who has presented throughout Australia and internationally.
He has volunteered at the Relaxation Centre for 21 years, having run a myriad of courses. He has been a guest presenter with the 5 week Centering Within course for several years, as well as presenting the course himself. Alexander has run deep relaxation, mindfulness and meditation classes, including well received workshops for children and parents. Other workshops topics include quietening a busy mind, emotional intelligence, direction and motivation, confidence and overcoming anxiety, communication, emotional wellness, burnout prevention, managing life transition and work life balance.
Alexander has also shared some of his outdoor expeditions, including his unsupported kayak journey across Bass Strait, circumnavigation of Tasmania, as well as multiple climbing trips through the Himalayas, Alaskan and European Alps. His interest in health and wellbeing also includes owning a small organic farm in the Gold Coast hinterland from which he sells some of his produce.
Professionally, Alexander Robey is a registered clinical hypnotherapist, accredited psychotherapist, mediator and family law trained mediator, and registered as an approved Australian Health Care Rebate Provider. With undergraduate degrees in psychology and business, postgraduate degrees in psychology and law, with multiple certifications, Alexander combines both diverse life experience, tens of thousands of hours professional practise and facilitation, with a down to earth and compassionate approach with working with people.