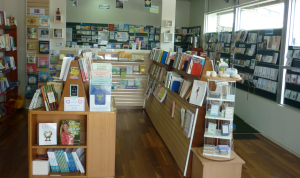 What a fantastic little Bookshop we have here at the Relaxation Centre! It's like a kind of Aladdin's Cave, full of wonderful exotic and undiscovered treasures. This exceptional little Bookshop is the work of many passionate people from various walks of life – that is what makes it so unique.
Yes! In our bookshop are voices numerous; new and old special, extraordinary pioneers calling out their discoveries to share with you and they are found in our Books, CDs and DVDs and many of our terrific courses. Should you find that we don't have the item that you are looking for PLEASE don't hesitate to ask one of our wonderful Bookshop staff members for help, they will be only too happy to assist you to source it.
We have such a wide range of Meditation and Relaxation materials along with the countless other self-discovery and life-skill materials such as: Nonviolent Communication, insights on cancer and what we can do, and Creative Expression.
Our little gift corner offers many interesting and unusual cards and small gifts (lots of them under $20). We have great books for kids and for healthy parenting tips, so come along and say hello to our amazing staff here at the Bookshop and have a browse around our outstanding little shop.
20% off – Shop Sale
Each year we really like to give an opportunity for our customers to purchase anything in our Shop at 20% off the usual price. This opportunity will be from Monday 7 to Sunday 20 November. A great chance to buy Christmas gifts that might become long-term friends of the person you give them to and, of course, that could just be you as well. We have a wonderful range of Boxed Cards; Meditation, Intuition, Crystal Mandala Oracle, Dr Wayne Dwyer, Louise Hay, just to mention a few. Do come in and browse – lots of wonderful little gift ideas.
Here are just a few items in stock – just to give you some ideas!
The Danish Way of Parenting
Denmark has been voted as one of the happiest countries in the world for over 40 years in a row. Countless articles and studies have been devoted to discovering the reasons why. But the results are always unclear.
In this groundbreaking book, respected Danish psychotherapist Iben Sandahl, and American author Jessica Joelle Alexander, claim to have uncovered the real secret of the Danes´ happiness. And it is, quite simply, in their upbringing. Danish parents raise happy children who grow up to be happy adults who raise happy children and the cycle repeats itself. They ask the reader to remove their "cultural glasses" for a moment and try on a "Danish way" of seeing things and then take a look at the world around them. Can anyone improve their well-being and cultivate the happiest children in the world in their own backyard? The answer is yes!
Steve Biddulph is one of the world's best known parent educators. A psychologist for 25 years, he is now retired but continues to write and teach. His books, including The Secret of Happy Children, Raising Boys, The New Manhood and now Raising Girls are in four million homes and 31 languages.  They have influenced the way we look at childhood and especially the development of boys and men. Today though, the exploitation and misuse of girls and young women globally are a major focus.
Raising Boys and Raising Girls – 2 great books by Steve Biddulph
Steve's live talks have had a remarkable public response, reaching 130,000 people over almost 30 years. Many people express surprise at how moving and emotional these talks are, as well as how much fun.
He was voted Father of the Year in 2000 for his work encouraging the role of fathers, and is honorary Adjunct Professor in the school of psychology and counselling at Cairnmillar Institute, Melbourne. He has two grown up children, and lives in Tasmania with his wife and co-author Shaaron.
We have a number of Steve's books in our Shop and if we don't have the one you want we will happily order it in for you.
Sitting Still Like a Frog : Mindfulness Exercises for Kids (and Their Parents) By Eline Snel
Simple mindfulness practices to help your child (ages 5-12) deal with anxiety, improve concentration, and handle difficult emotions.
Mindfulness, the quality of attention that combines full awareness with acceptance of each moment, just as it is, is gaining broad acceptance among mental health professionals as an adjunct to treatment. This little book is a very appealing introduction to mindfulness meditation for children and their parents. In a simple and accessible way, it describes what mindfulness is and how mindfulness-based practices can help children calm down, become more focused, fall asleep more easily, alleviate worry, manage anger, and generally become more patient and aware. The book contains eleven practices that focus on just these scenarios, along with short examples and anecdotes throughout. Included with purchase is an audio CD with guided meditations, voiced by Myla Kabat-Zinn, who along with her husband, Jon Kabat-Zinn, popularized mindfulness-based stress reduction (MBSR) as a therapeutic approach.
Beating The Bully
This bedtime story will give your child 12 different ways to help effectively deal with bullying. It teaches your child true life skills that can be used in everyday life by helping them cope with conflict situations, interact with other people and gain the skills to adapt to any given situation. The symptoms of bullying include depression, fear and other unwanted negative emotions. This story will help detach your child from these fears and turn them into positive actions to overcome the source of the problem safely and sensibly. This story with mild hypnosis techniques can be used during quiet times during the day or at bedtime. It is suitable for children aged between 3- 11yrs. Cost – $24.95.
Helping Children Turn Nightmares Into Happy Dreams!
This story is designed to teach children that bad dreams are not real and that it is just in their imagination. It shows them through a metaphorical story the difference between real and imaginary and how to control this. It helps them let go of deeply rooted fears and replace them with new and more positive ways of thinking. It also gives children the power to control their dreams and to 'step in' and point them in a more positive direction when nightmares begin to start.
Helps Children Who… Experience bad dreams and nightmares – Wet their bed – Have trouble sleeping because of fear – Cannot grasp the difference reality and fiction – Are afraid of the dark – Are scared of monsters, the boogie man or other fictional characters – Have an overactive imagination manifesting negative thoughts. Often addressing the nightmares and confidence issues can assist with helping children not wet their bed also. – Cost $24.95.
HAVE YOUR SAY! We welcome your ideas, suggestions and recommendations; just pop them into the suggestion box located on the counter at the Bookshop.
Please ring us on 3856 3733 with any questions you have or requests for Books, CDs and DVDs.
Download our Shop Catalogue PDF. If you wish to purchase a book, CD or DVD not in our Catalogue please ring us on 3856 3733 and let us know – we will be very happy to order the item in for you.