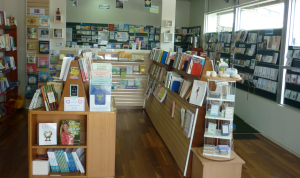 What a fantastic little Bookshop we have here at the Relaxation Centre! It's like a kind of Aladdin's Cave, full of wonderful exotic and undiscovered treasures. This exceptional little Bookshop is the work of many passionate people from various walks of life – that is what makes it so unique.
Yes! In our bookshop are voices numerous; new and old special, extraordinary pioneers calling out their discoveries to share with you and they are found in our Books, CDs and DVDs and many of our terrific courses. Should you find that we don't have the item that you are looking for PLEASE don't hesitate to ask one of our wonderful Bookshop staff members for help, they will be only too happy to assist you to source it.
We have such a wide range of Meditation and Relaxation materials along with the countless other self-discovery and life-skill materials such as: Nonviolent Communication, insights on cancer and what we can do, and Creative Expression.
Our little gift corner offers many interesting and unusual cards and small gifts (lots of them under $20). We have great books for kids and for healthy parenting tips, so come along and say hello to our amazing staff here at the Bookshop and have a browse around our outstanding little shop.
20% off – Shop Sale
Each year we really like to give an opportunity for our customers to purchase anything in our Shop at 20% off the usual price. This opportunity will be from Tuesday 6 June to Monday 26 June.
Covers all CDs – All DVDs – All Cards.
So often behind all books there is a story prior to people getting into personal and spiritual exploration and writing. There is often a background of extreme difficulty, sadness, fear, sickness, aggression/bullying, drugs, alcohol, not fitting in, feeling alienated or being totally unacceptable.
Out of that background the person (author/speaker/researcher) has searched deeply within themselves for answers. Bit by bit those answers appropriate to their situation have emerged and they found themselves being involved in teaching others in ways they could never have imagined even a short time before. Such is the mystery of life – such, it seems, is the value in suffering – such is the power and resilience of our spirit.
Welcome to our Book Shop – you will see a wonderful broad range of books/CDs/DVDs by people many of whom have been through horrific periods in their lives; for instance Ian Gawler and Petrea King who were both told they had days to live because of cancer; Eckhart Tolle – out on his own in total bleakness; Marshall Rosenberg, a victim of aggression in early life – and Graeme Cowan – many years of deep depression and medical treatment appearing ineffective – these and many others.
So whatever it is you are battling with inside yourself come and look at our stock, listen to some of our Relaxation CDs, check out many of our DVDs in our Film  Sessions
(Thursday afternboons and Friday evenings).
Many of us are questioning as never before and can seem constantly challenged. We look for answers and often discover that what once worked for us doesn't work any longer  and, yes, life is definitely speeding up and changing and we have to move with it. It's then we need to look at things we would never have considered previously and yet oddly might now seem to fit perfectly and give us what it is that we're needing and, most importantly, lead us to the answers that we seeking.
That's what the Relaxation Centre Courses and Shop are here for. Please use them and enjoy them.
See below a small selection of books which have had a profound effect on many people.
Dr Ainslie Meares was a remarkable medical doctor/psychiatrist who practised in Melbourne. Many people claim that he was the first doctor in the Western World to advocate and prove the beneficial effects on our physical bodies of learning and practising Relaxation. His focus was on teaching stillness.
Lionel invited Dr Meares to Brisbane in 1981 to be the key speaker at a conference we organised to include 3 other doctors on what we as individuals can do for ourselves in addition to what doctors offered to those with cancer.
Dr Meares was  meticulous in his research and recording of the effects of Relaxation on his patients. For many of his final years he focussed on people diagnosed with cancer with only limited time to live. Some of the results were remarkable and virtually all of the people he gave 3 or 4 sessions of Relaxation a week to reported a wide variety of benefits, physically and in their general wellbeing.
Dr Meares wrote 30 books including "Relief Without Drugs" (no longer available) which, on its own, inspired individuals and practitioners worldwide. He detailed records of each patient and was very scientific in his whole approach.
Hundreds of people attended the session in Brisbane. We recorded his presentation and have it here on CD. It is titled "The Healing Effects of Meditation" and we sell it for $22. We know of no other CD of his talks.
A book which is not often shouted about from the roof tops is entitled "You Own Perfect Medicine."  On the cover it says, "The proven natural miracle cure that medical science has never revealed – although clinically tested and medically proven." The problem for most people it is all about the application in a range of ways of your own urine – YUK say most people immediately – but when you read the author Martha M Christie's personal story you can see why she devoted the rest of her life to looking into this in many countries, cultures and down through the ages to leading medical researchers.
The list of medical conditions worked with is fascinating and surprising – so whatever you do keep an open mind. It might be what you're looking for now or in the future – quotes by doctors in many countries are included.
"Natural Gardening in Australia" is a wonderful book full of invaluable ideas. Jeffrey Hodges wrote it in 1989. When we first got to know Jeffrey he constantly brought in the most beautiful looking vegetables full of great taste. On the back cover of Jeffrey's book he is described as an environmental scientist, lecturer and avid gardener – his enthusiasm, commitment and
practical know-how made this book an immediate best-seller. Over the years it has been revised, expanded, and empowered and assisted countless Australians to know how to garden in harmony with nature. Jeffrey says, "My ultimate goal is to create a self-sustaining garden eco system – a garden where I don't have to water, weed, fertilise, kill pests or even sow seeds." Sounds amazing? Well the book has been reprinted many times and it's here.
Do you like being surprised? – do you like to question why you haven't heard something before? – do you like to correct deep misunderstandings? – do you like to say, "Well, how amazing!"? Well, here's your opportunity.
We first heard of Bruce Pascoe when he was interviewed by Richard Fidler on his ABC Program. During this he spoke of Australian Aboriginal agriculture – all the bread and cakes that were made thousands of years prior to settlement. What was amazing was where he got the information – it wasn't from hearsay or from stories but from diaries and records of the early explorers, first settlers and such like.
When we shared this book with numerous people the words "Amazing – Remarkable – How unbelievable" were said. But even more times we received statements such as "Well, I've done all my education in Australia and have this or that degree but I've never heard one word of this before."
Yes, we went ahead and brought into our Shop this book by Bruce "Dark Emu – Black Seeds" full of quotes from diaries – so mind opening!
The above are just four items in our Shop. We have many hundreds of Books, CDs, DVDs,
Games, Cards and much, much more. We like to say we have some real gems. If your current needs involve finding answers for ongoing issues, if you're struggling in relationships at home, work or wherever, if you're looking for ideas to build a healthier life or you simply believe there's more to your life than you are experiencing at present then come in and look around. We're here to assist if you request this; or just come in, browse and have a cuppa whilst you're here.  You never know, you could be one of the many people who found exactly what you need to get you going, relaxing, meditating or just feeling more optimistic.
HAVE YOUR SAY! We welcome your ideas, suggestions and recommendations; just pop them into the suggestion box located on the counter at the Bookshop.
Please ring us on 3856 3733 with any questions you have or requests for Books, CDs and DVDs.