Rothy Benson had several years working as a Chiropractic Assistant in a practice where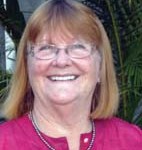 everybody was deeply interested in what brought health and healing.
Through this she met Dr Donald Epstein, the author of The 12 Stages of Healing and at the same time saw the profound benefits to be found in breathing, relaxing and meditating.
Rothy says of herself, "Until my 40s I had no idea how stressed I was. While working with Chiropractors and meeting many natural therapists, I was trained in 'Pain Management" through specific breathing exercises, where not just patients received benefits. I gained a whole new outlook on wellbeing which also led me into relaxation, then meditation, and personally feeling considerably happier and calmer.
"Decades on I still enjoy the benefits and aspects of what I teach – it's become second-nature to my wellness. Guiding others into feeling happier, calmer, and healthier is particularly rewarding; and something I intend doing for many years to come. All sessions are facilitated in friendly, calm environments."
Some comments from previous participants in Rothy's sessions
Today was an absolutely lovely, nurturing and relaxing experience. It was a wonderful good-feeling day.
Rothy has such a gentle, positive, kind spirit. I really needed this day as a reminder of how to deal with stress in my life. The highlights of the day were the labyrinth which was awesome. The Deep Relaxation in the morning was wonderful in helping to "let go" and then the meditation beads in the afternoon.
I really, really enjoyed this lovely day especially the deep relaxation, meditation beads and the fellowship with other participants in this retreat day. The major highlight was learning about building, walking within and meditating around within the labyrinth. All in all, most enjoyable and highly beneficial and I hope Rothy continues to offer this enjoyable and highly beneficial day.
What a great day to just let go and allow your body/mind/spirit/soul to relax in a safe nurturing environment. Rothy is amazing, her knowledge is incredible; the labyrinth is incredible. I would recommend this day to anybody who is contemplating attending.
I definitely felt empowered after this session and felt Rothy's enthusiasm for her presentation. 
Rothy's Retreat Day was brilliant! I feel so much better and this is just what I was hoping it would be. I will be using the breathing techniques daily.