Paul has been interested in spirituality, health, movement and meditation states from an early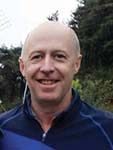 age. Having some unusual experiences of altered states whilst doing seemingly unrelated activities in different area i.e. early in his life (in a Christian Church and then doing Yoga Breathing and exploring KiGong) he was motivated to learn more about Ki for life energy and Spirituality.
Paul is trained in and taught KiGong, Tai Chi and Taoist Meditation on and off for about the past 30 years. Paul's main mentors in Korean Kigong were Master Cho Keun Bok and Kigong Adept Kim Dae Won from whom he learnt Kigong for building, storing and moving Ki all around the body, for longevity and to move towards spiritual enlightenment.
Paul says, most Qigong taught is for Health and works on balancing Ki, not on really building, storing, sensing and moving Ki. Paul would like to share these practices with you so that you can really feel your Ki and build it so you can have more energy in your life. Also when you can move the Ki with your mind all of your Kigong, Tai Chi, Yoga and Meditation practices come alive and are more enjoyable and of more benefit to you.