Chris Lloyd is one of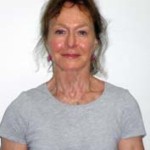 our yoga teachers and is a passionate believer in yoga's ability to help support our physical, mental and spiritual wellbeing. She has been practising Hatha Yoga and meditation for the last 20 years and is committed to communicating the benefits of yoga to her students.  Chris believes anyone can benefit from including a regular yoga and meditation practice in their lives and loves teaching both beginning students and experienced practitioners.
Chris says her hobbies include gardening, cooking and nutrition.  She appreciates the benefits of a good diet as well as loving good food and has a very productive organic vegetable garden.
Chris presents Yoga for Beginners every Friday, 12.00-1.15pm.