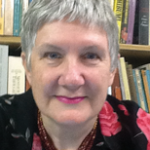 Anne weaves a lifetime of multidisciplinary experience and active community involvement into distilled wisdom. She draws on stories from her own life and those of others along her journey, and from her wide reading and research.
Anne has taught a wide range of university and community courses, and she has worked in research and planning across industry, commerce, government at all levels, and the education sectors. She has run her own businesses and is a visionary leader in the not-for-profit sector. She was invited as a community representative to 'The Queensland Plan'.
Anne is one of the pioneer leaders of the Permaculture movement and has gone on to lead in the Transition Towns movement. She has deep engagement in the ecocommunities movement. She writes and has produced her own radio program for several years on sustainability and resilience, and has taught community courses such as 'Living Sustainably in the Suburbs'. She volunteers widely and is deeply engaged in her home life, garden and marriage to John.
An awareness of utter abundance crept up slowly on Anne. Like many who gain deep understandings of inner wealth, she has faced almost insurmountable challenges along her journey. Conquering the dragons on her pathway one by one, she has built a life rich in lessons to share of the riches and joys she has uncovered.